Refrigerator Dill Pickles Recipe are vegetables that are immersed with an brine solution and stored in a jar. It is placed in a refrigerator for at least a week before serving.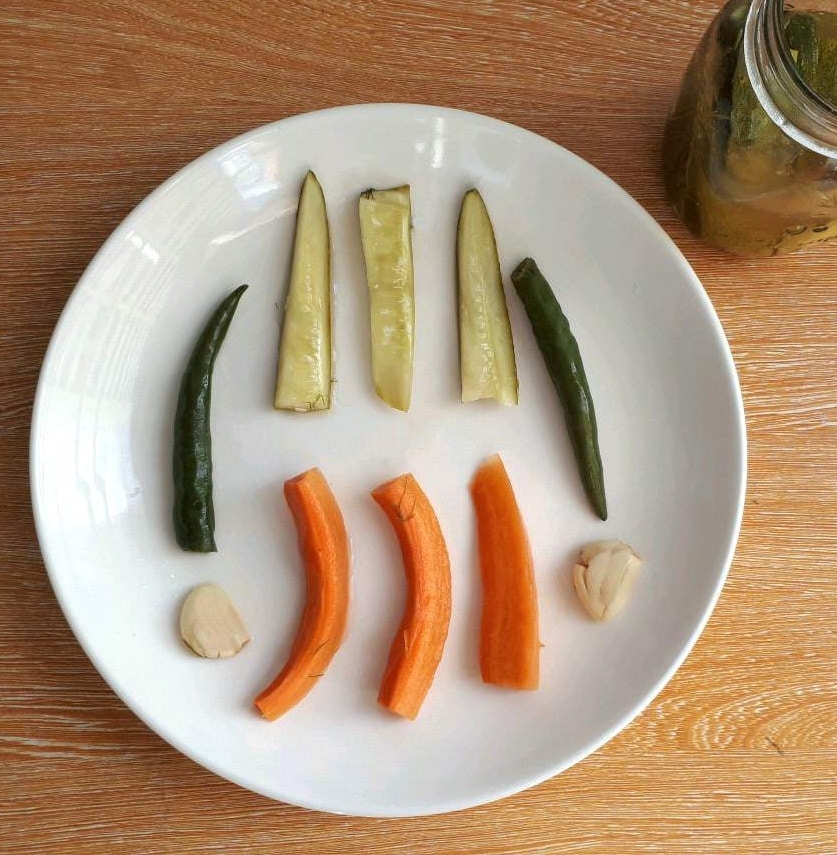 I love eating Pickle and they serve perfectly when eating with sandwiches. Also, they are great appetizers and side dishes. Usually, in most recipes they use cucumber, but to me, I include carrots and green chilies to give a nice flavor of my pickles.
In the Middle East and Western countries, some of their dishes use cucumber pickles, and they blend well with sandwiches. For example, I ate Shawarma sandwiches, and one of their ingredients has a pickle. Its sour taste gives a delicious flavor of the sandwich.
Personally, if you eat it alone, it may not be nice since it might be too sour for others. But, if you eat with sandwiches, it tastes much better. Because I love to pickle, I will be showing you how to cook my easy version of Refrigerator Pickles Recipe.
Ingredients Needed for Refrigerator Dill Pickles Recipe
There are several ingredients needed to prepare for your favorite Refrigerator Dill Pickles Recipe
Firstly, I am using three different vegetable pickles which are cucumber, carrot, and green chilies. Normally, most pickles used the only cucumber, but I like to add other vegetables. Also, adding green chilies will give its nice spicy flavor of my pickle, and I love eating green chili alone. In addition to that, I add garlic to add a nice garlicky flavor of this recipe.
Secondly, dill is a very important herb you need for your pickle. When you put in the jar, it will provide a nice herb aroma from the dill which will taste good. You can also add coriander seeds, but I did not use this ingredient in my recipe.
Thirdly, you need water and vinegar. The vinegar is the main ingredient that will provide its sour taste of the pickle. For correct measurement, I am using a 1:2 ratio of the Vinegar and Water. For example, every 1 cup of water, I add ½ cup of vinegar. That is because I don't want my pickle to be too sour. This measurement is actually subjective since, in other recipes, they use a 1:1 ratio. If you prefer a stronger sourly taste, you can use this ratio if you want.
And lastly, I add salt and brown sugar for taste. The sugar will help reduce the acidic of the pickle. Also, It is much healthier than white sugar which is one reason why I prefer that type of sugar. On the other hand, some recipes used kosher salt, but I am using just ordinary iodized salt. Personally, I don't notice any difference in my pickle.
What are the kitchen appliances, or other things needed for this recipe?
When making Dill Pickles Recipe, you will need a cooking pot or pan where you will be used to heat and mix the water, vinegar, salt, and sugar. And a Jar to put the pickle and the acidic liquid in the refrigerator.
Take note that the Jar must be cleaned and dry before adding anything inside.
Is there a differences between Canning and Refrigerated Process for my Dill Pickle?
When making a pickle recipe, you can either use a canning or refrigerated process. Canning is a process that you are applying heat in your pickle jar to help remove any microorganism. This is much difficult technique because you have to do it correctly to prevent spoiling the food.
In my recipe, I am not doing the canning process because it is time-consuming. Also, I am living in a tropical country in the Philippines where the weather here is too hot to make a canning pickle. Unlike refrigerated pickle, it is easier and you can just store it in the refrigerator for several days before eating.
Instruction to make Refrigerator Dill Pickles Recipe
To make this recipe is easy and straight forward. First of all, you have to heat the water and vinegar. After that, you add salt and sugar and mix it well. Once it is fully dissolved, turn off the heat and let it cool down before putting it into the jar.
Chopped the carrot, cucumber and green chilies in a long cylindrical shape. Also, remove the skin and smashed the garlic without chopping them off. This will help release the aroma of the garlic.
Place the dill herbs first on the bottom of the Jar, followed by garlic. And then add the cucumber, carrot and green chilies. Lastly, add the acidic liquid mixture into the jar, and closed the lid well to prevent air coming inside. Stored into the refrigerator for 1 week before serving, and you are done. Easy isn't it? In 5 to 7 days, the color of the pickles will fade or lighten which is normal, and it will be crunchy.
Below is the full instruction of how to make your favorite Refrigerator Dill Pickles Recipe
Easy Refrigerator Dill Pickles Recipe
Refrigerator Dill Pickles Recipe is a vegetables that is immersed in an acidic mixture of vinegar and water, and stored into the refrigerator.
Ingredients
1

large

carrot

4 green chilies

1 Japanese Cucumber

3 cloves of Garlic

1

cup

of water

½

cup

of vinegar

2

tablespoon

of Dill

1

teaspoon

of salt

1

tablespoon

of brown sugar
Notes
Instead of cutting the vegetables in a long shape, you can sliced into a circle form if you like
You can optionally add peppercorn and coriander seeds for better flavor
Make sure the Jar is fully covered with the Brine so it will not affect the texture, and prevent microorganism growth.
Although you should wait for 5 to 7 days, you can actually start eating after 48 hours.
Nutrition
Calories:
90
kcal
Carbohydrates:
12
g
Protein:
2
g
Sodium:
500
mg
Potassium:
330
mg
Fiber:
2
g
If you love pickle, here are other pickle recipes that you may like to try cooking at home