Cheese Samosas Recipe is an Indian dish using Samosas wrapper filled with Mozzarella and Cream Cheese. It is one of the most popular street food snacks which is made from a prepared dough called Samosas Patti (wrapper)


Jump to:
When I was living in Kuwait; before residing in the Philippines, I had the chance to try many kinds of Indian foods. That is because it has a large Indian community and workers living there. In my experience, they have one of the best cuisines in the world.
When I was a kid, my father brought me to a local street in Fahaheel in Kuwait, where it is home to popular Indian street foods. In that area, this is like a small Little India where all people from India like to go there. In that place, this is where I tried many delicious street food snacks, one of them is samosas.
What is Samosa?
Samosa is a deep-fried Indian pastry that is in a form of a triangular or half-moon shape. The wrapper is made from thin sheet dough called Samosa Patti. There are many kinds of samosas dishes which includes cheese, vegetable with spices or meat.
Although they are popular street foods, they can be served during snacks or appetizers. Furthermore, this is also a common dish to serve during special occasions like Eid or Ramadan Iftar recipes.
Difference between Indian and Middle Eastern version
In the Middle East and Arab countries, they call this recipe Sambousek which is different since they are using homemade fresh dough. Also, their shape is in a form of empanada or moon-shaped, which is bigger in shape than the Indian version. Lastly, their fillings are a bit different since they are using Middle Eastern ingredients.
On the other hand, in the South Asian or Indian Samosa, the wrapper is a thin sheet that is similar to an Asian spring roll wrapper. This fried pastry recipe is a triangular shape that is crispier and thinner than Sambousek. Lastly, when serving this dish, it is accompanied by a sweet chutney dipping sauce.
Out of all samosas I made, the Cheese Samosas is my favorite which is one of my childhood food memories. In this post, I will be showing you my Indian-inspired version of this recipe. I wouldn't call this dish authentic, but I promise it is the most delicious pastry snack you will try
Recipe Ingredients
Here are the ingredients I use to make my Cheese Samosas recipe which is easy and straight forward
Spring Roll Wrapper
Flour with water (For pasting the wrapper)
Cream Cheese
Mozzarella Cheese
Vegetable Oil
Notes: In this recipe, I am using a spring roll wrapper which is the same as the samosa wrapper.
Things to do First before Cooking
Before you start cooking, you need to first make a samosas wrapper.
As I mentioned in the previous paragraph, I am using a spring roll wrapper instead of a samosas Patti wrapper since it is hard to find it. Nonetheless, the texture is both the same.
My Spring roll wrapper is sized in 8 x 8 inches, and I use a scissor to divide them into 3 long thin sheets. Each long thin sheet is 8 inches long and 2.5 to 3 inches in width. Also, since this recipe can make at least 18 to 20 pieces of cheese samosas, you need 6 to 7 spring roll wrappers.
Do take note that if your spring roll wrapper is smaller, it will not work in this recipe. That's because you can't wrap samosas properly.
Step by Step Instruction
Cooking the Cheese Samosas is divided into 3 parts: Making the Cheese Fillings; Assemble the Wrapper, and Frying the Samosa Wrapper.
A. Making the Cheese Fillings
In this recipe, I grated the mozzarella cheese and get some cream cheese, which I transfer to a plate bowl. Mix them well, and then I set them aside to prepare to wrap my cheese samosas.
B. Assemble the Wrapper
Now you have long thin sheets wrapper and cheese-filling mixture, it is time to start wrapping your samosas. Initially, you may hard time wrapping, but eventually, you will learn.
I display the steps of the picture, so it will be easier for you.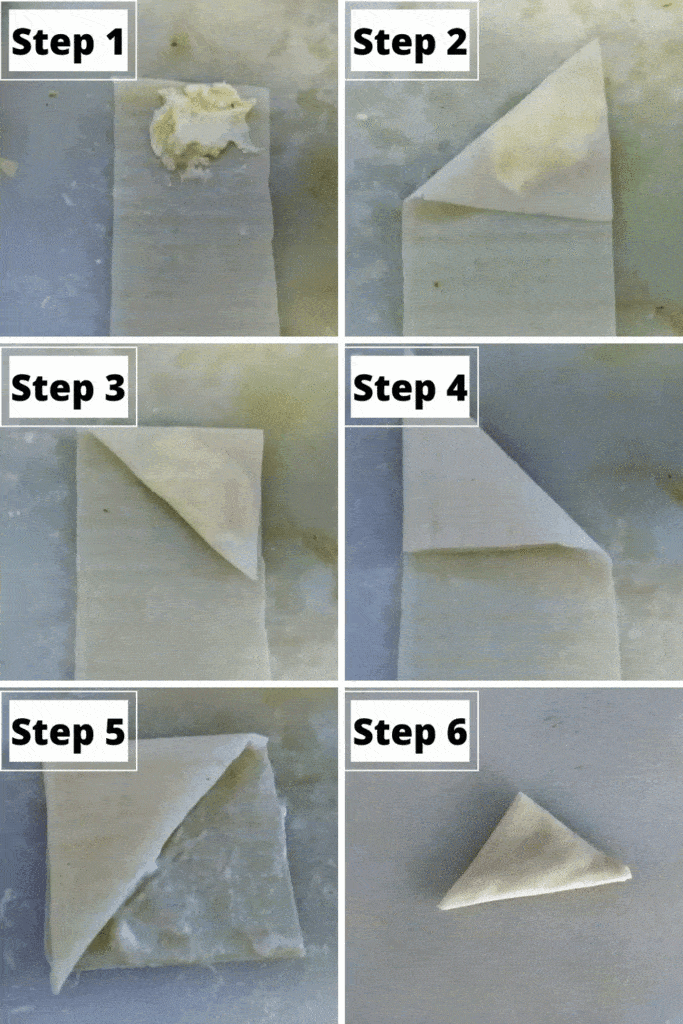 Step 1- I add half a teaspoon of cheese fillings into the long sheet wrapper. Use your cleaned finger or spoon to spread the cheese
Step 2- Fold the wrapper by bringing the upper-left edge to the right side. Before folding, paste on the upper right and middle side with the flour-water mixture. This will help hold them together.
Step 3- Grab the upper edge, continue forming a triangle by moving down on the same side
Step 4- In this step, you will be folding to the opposite direction, by holding the upper-right edge, and move from right to left side
Step 5- As similar to step 3, continue folding by moving down on the same side.
Step 6- In this final step, before you will be folding into a complete triangle, make sure you paste all the sides with a water-flour mixture
Now you have a beautiful triangular shape of cheese samosas. You can cook it right away or store it in the refrigerator for later use.
C. Frying the Samosas
Once you are done with the wrapper, just pour vegetable oil into the pan. Once it becomes hot, add the samosas. I fry it for at least 1 minute on each side or till it turns light brown.
Frequently Asked Question's (Faqs)
1. Do I have to cook all of them at once?
For the remaining samosas, you can just store them in the freezer for other days. They can last up to 6 months. Just make sure you seal them in the plastic properly.
2. What other fillings I can put in this recipe?
You can put green chilies (if you like it spicy), bell pepper, or fried potatoes. Furthermore, you can use other cheeses like cheddar or feta cheese.
3. Is other healthy ways to cook the cheese samosas?
You can cook through air fryer or bake oven.
I. For Air fryer: brush them with oil and then heat them in 180 C or 350 F for 8-10 minutes, and then flip to the opposite side and heat for another 8-10 minutes. 
II. For Baking in the Oven: Brush them with oil, and bake in 200 C or 400 F for 15 minutes. Flip it and continue baking for another 15 minutes.
4. How to reheat the cooked samosas?
I use Air fryer which will heat it for 4-5 minutes at 200 C / 400 F. Do not use a microwave since it will not be crispy.
5. What can you serve this recipe with?
Since this serves as street food snacks, I highly recommend you serve this with sweet chutney or tomato marinara dipping sauce. In addition to that, I like to eat this together with my homemade Indian Butter Chicken
Related Indian Food Recipes
Here are other delicious Indian food recipes that you can make at home:
📋 Recipe Card
cheese samosas recipe
Cheese Samosas is an Indian fried pastry snacks that is made mixed with fillings of Mozzarella and Cream cheese.
Ingredients
Samosas Wrapper or Spring Roll Wrapper

Must be 8 x 8 inches

100

gram

of cream cheese

50

gram

of Mozzarella cheese

Flour-water mixture

For pasting the samosas

1

cup

of vegetable Oil for Frying
Instructions
Making the Cheese Filling

Grate the Mozzarella cheese, and put the cheese together into the plate bowl.

Stir to combine. Set Aside for preparing to assemble the samosas

Assembling the Wrapper

Use half a teaspoon on the long sheet wrapper. Paste on the upper right and middle sides before starting to fold them.

Continue Folding them until they form a triangular shape.

Please refer to the blog post for full details and pictures on how to properly wrap a samosa (Step 1 to Step 6)

Frying the Samosa

Pour vegetable oil in the pan.

Once it become hot, add the cheese filling wrappers into the pan.

Fry for 1 minutes or until it turns brown. Flip to the opposite and continue frying for additional minute.

Transfer into the plate with paper towel to help absorb the excess oil.

Serve with red marinara, sweet chutney or any sauce you desired.

Notes
Instead of frying in the oil, you can cook it through air-fryer or bake oven. Please refer to the FAQ's section for full instruction.
I recommend air fryer when reheating the samosas. Do not use microwave
This recipe can last in the freezer for up to 6 months.
Nutrition
Serving:
1
g
Calories:
137
kcal
Carbohydrates:
8
g
Protein:
2
g
Fat:
16
g
Saturated Fat:
3
g
Polyunsaturated Fat:
12
g
Cholesterol:
9
mg
Sodium:
59
mg