Garlic Mozzarella Bread is a cheesy bread made using homemade dough and spread with butter. This bread tastes way better than your classic garlic bread.


Jump to:
If you tried different garlic bread, most of them are using classic French / Italian bread. Or even a garlic bread using sliced bread that I made which is way easier and convenient.
But in this post, I am going to show you something different which I promise tastes better. That is because this is a homemade bread recipe using flour.
Why is this the best garlic bread?
There are 3 reasons why my Garlic Mozzarella Bread is the best:
You can eat this bread with soup, pasta or even snacks which you will feel satisfied.

This garlic bread is cheesy, fluffy, and soft. It is not dry or crispy compared to other classic bread found in some restaurants.

You don't need to buy or use any processed bread from the grocery stores when you can make your bread. The shape of my garlic bread is like the shape of pizza which gives a good placebo.
Recipe Ingredients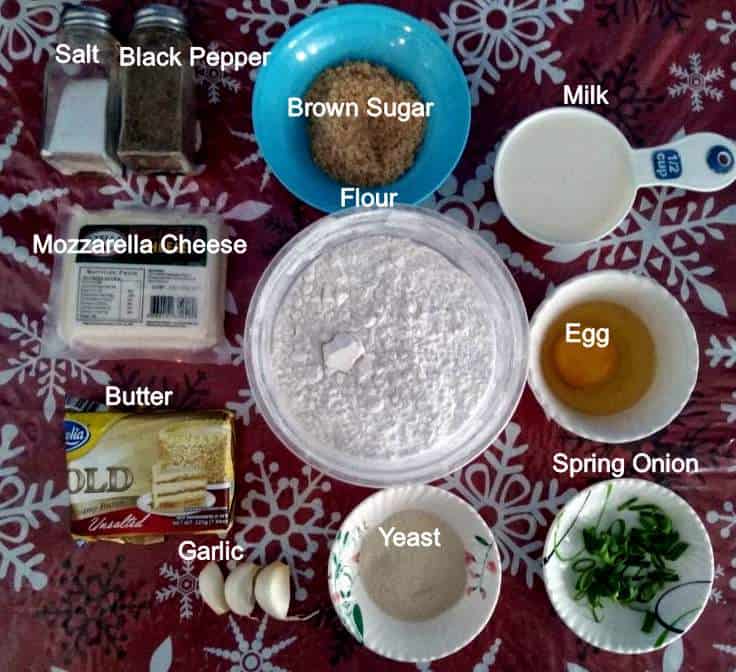 Here is the list of ingredient of my version of garlic mozzarella bread recipe:
DOUGH: To make a dough, I use all-purpose white flour, yeast, brown sugar, milk, unsalted butter, and egg. The egg and the butter will give a rich flavor and make the bread soft.
FOR MAKING THE BUTTER: I use unsalted butter, grated garlic, the leaves of the green onion, and salt & black pepper.
CHEESE: One of the most important condiments for this recipe is Mozzarella cheese since it makes the bread cheesy and mouthwatering.
How to make the Dough
To make the dough of the bread, I first prepared ahead on making the yeast mixture by mixing it with milk, brown sugar, and egg.
Once I mixed to combine, that is when I transfer into the flour in a bowel. I add melted butter, and then I stir & knead till it turns soft and fluffy.
Next, I transferred the dough into the baking tray where I use my hand to make it into a ball shape. And then I covered it with a clean towel. Leave it for 1 hour since this will let the dough ball grow.
How to make the garlic butter
To make the garlic butter, I combine the unsalted butter, grated garlic, and chopped green onion in a small plate bowl. I use a small spoon to gently make it into a paste.
Set aside since I will be using that to spread the bread dough.
How to cook the bread
Once the dough grew in size, I remove the towel. And I gently use my hand to flatten the dough into a circle-shaped. I use a sharp knife to score the dough in all side as what you see in the picture above.
After that, I cut the mozzarella cheese into smaller pieces where I inserted within the lines of the scored dough. Next, use the brush to spread the garlic bread with garlic butter. Make sure you put the cheese inside first before you spread with the butter.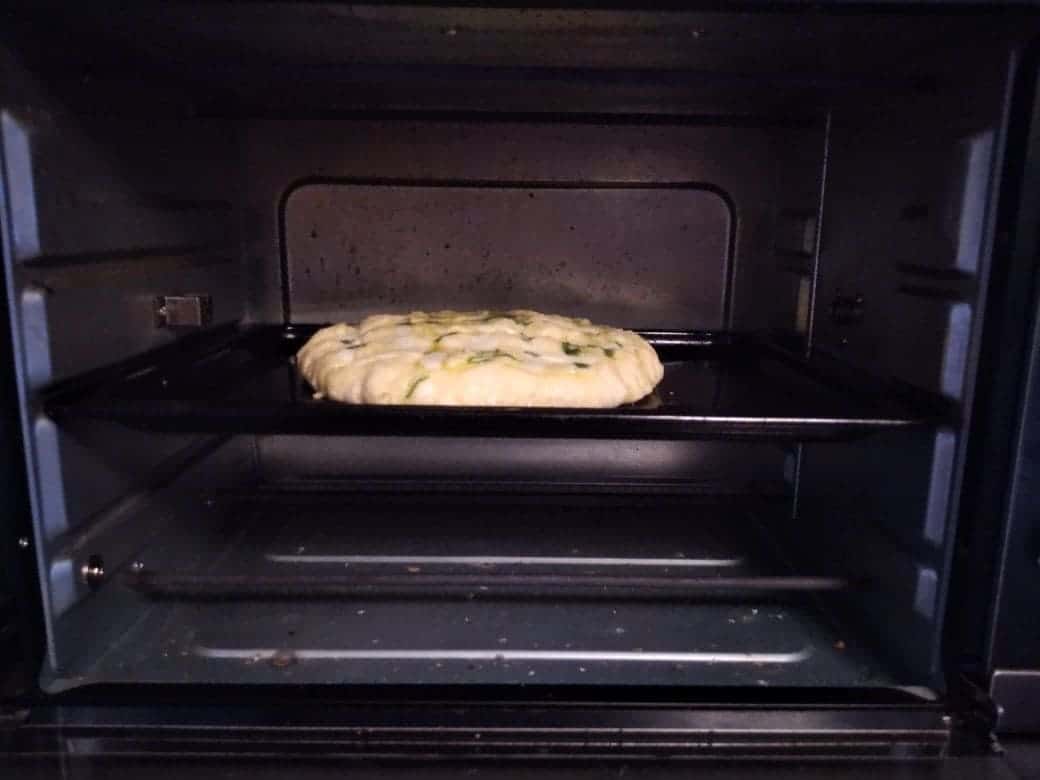 Lastly, transfer into the oven and bake it for 15-20 minutes at 200 C (400 F). Once done, serve this Garlic Mozzarella bread with hot soup, pasta, or even alone.
Variation
Instead of Mozzarella Cheese, you can use Cheddar or any white cheese you like.

You can use chopped chives instead of green onion

If using salted butter, do not use salt. But if using unsalted butter, salt will be needed to season the bread dough and the spread butter.
Other Cheesy Bread Recipes to Try
Here are other similar cheese bread recipes that you may like to make:
Garlic Mozzarella Bread
Total Time:
1 hour
15 minutes
A delicious garlic mozzarella bread that is fluffy, cheesy and delicious.
Ingredients
2 cup of flour
1 egg
2 tablespoon of brown sugar
½ cup of milk
3 tablespoon of unsalted butter
2 teaspoon of yeast
¼ teaspoon of salt
For Garlic Butter
1 teaspoon of grated garlic
½ cup of Unsalted Butter
½ teaspoon of Salt
1 tablespoon of chopped green Onion
Instructions
Making the Dough Bread
In a small plate bowel, combine milk, egg, yeast and brown sugar. Stir and set aside.
In a large bowl, add flour and then the yeast-milk mixture. Stir using the wooden spoon followed by adding the melted butter
Use your hand to knead the dough till it turns soft and fluffy
Transfer into the baking tray and use your hand to shaped into a ball
Cover with a clean towel and set aside for 1 hour to let it grow
Making the Garlic Butter
In a small plate bowel, add the unsalted butter, grated garlic, salt and chopped green onion.
Stir to combine using small spoon till it turns into a paste
Cooking the Garlic Bread
Remove the towel from the dough, and use your hand to flatten into a circle shape.
Use the sharp knife to score the dough in all side like the picture shown in the post.
Cut the mozzarella cheese into a 1 inch smaller pieces.
Insert each cheeses within the lines of the scored dough
Use the brush to spread the bread dough with garlic butter
Transfer into the oven and let it bake for 15 to 20 minutes in 200 C (400 F).
You can eat it alone or serve with soup or pasta



Notes
You can use chives instead of green onion
To under the instruction of the recipe, see the pictures in the recipe post.
Nutrition Information
Yield

6
Serving Size

1
Amount Per Serving
Calories

280
Total Fat

23g
Saturated Fat

14g
Trans Fat

0g
Unsaturated Fat

8g
Cholesterol

89mg
Sodium

292mg
Carbohydrates

37g
Fiber

2g
Sugar

4g
Protein

7g