Shrimp Croquettes is a dumpling-like deep-fried shrimp ball that has a creamy filling of onion, butter, and milk. It is best to serve as an appetizers or side dish.
I love croquettes, and I have tried many kinds of this deep-fried ball from different countries. These versions of croquettes include shrimp, fish, crab, potatoes, or even chicken.
In my old post, I have made a recipe for chicken croquettes, a dish that I got inspired by a western restaurant I ate. Recently, I decided to make something different, which this time I am using shrimp instead of chicken. And if you are a seafood lover, I promise you will find my shrimp croquettes delicious.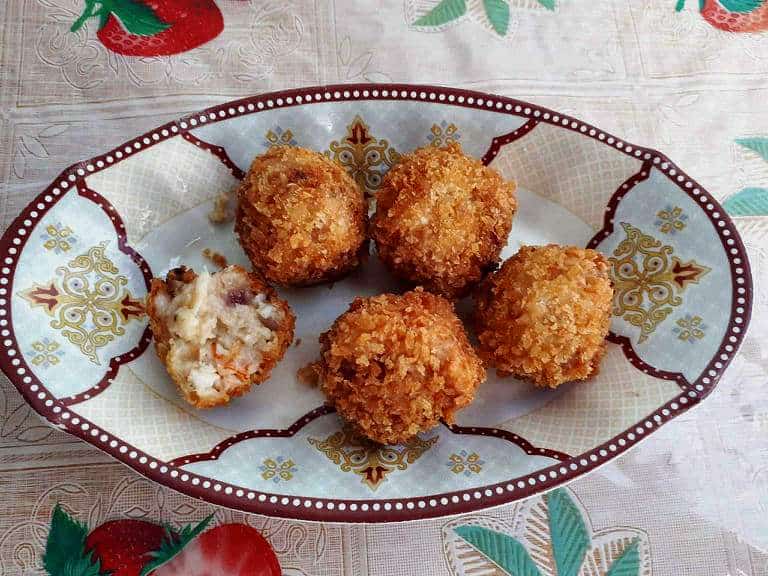 The breadcrumbs make it crispy on the outside, but it is soft and creamy on the inside. Furthermore, it is easy to make since you don't need to use many ingredients for this recipe.
Recipe Ingredients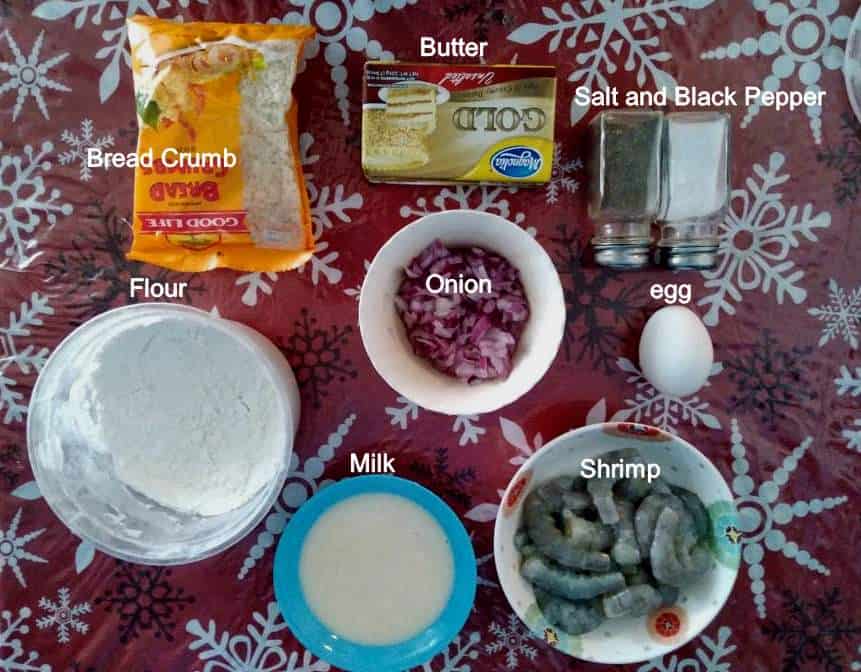 To make this delicious shrimp croquettes, here are the ingredients you need:
The main ingredient you will need for this recipe is shrimp since this will serve as our protein.

To make the croquette, you will need red onion, unsalted butter, flour, milk, and salt & black pepper. I am using low-fat milk to compensate for the high saturated fat from the butter

For coating and making a ball shape, you will need Egg, Flour, and Breadcrumb. And cooking oil for deep frying this dumpling-like ball.
Things to do first
Before you start cooking this dish, you must cook the shrimp ahead. Once done cooking, you cool it down and then chopped into smaller pieces.
Set aside since you will be using it when making the shrimp mixture of the croquette.
Step by Step Instruction
There are two things to do when cooking shrimp croquettes: Making the shrimp mixture; coating the shrimp ball, and deep-frying the croquette
I. Making the Shrimp Mixture
To make the shrimp mixture, I added the unsalted butter to the pan. Once it melted, add the chopped red onion and stir. After that, that is when I add flour, milk, and salt & black pepper.
Later, I added the chopped cooked shrimp into the pan, and I gently stir to mix. Once done, transfer into the tray and let it chill for 1 hour to help bind the shrimp mixture.
II. Coating the Shrimp Ball
After 1 hour in the refrigerator, I remove the shrimp mixture and prepare a separate bowl of flour, egg, and breadcrumb for coating the ball.
To dredge or coat the shrimp ball, use 1 tablespoon and use your hand to roll into a ball shape. After that, coat it in the flour, followed by egg and then breadcrumb.
Repeat the rest of the shrimp ball since this recipe is good for at least 15 to 18 pieces.
III. Frying the Croquettes
This step is easier since all you have to do is just deep-frying the croquettes.
In a bowl, I pour vegetable oil and when it turns hot, that is when I added the shrimp croquettes. Let it deep fry on both sides till it turns golden brown.
Lastly, remove it and transfer it to the plate with a paper towel to absorb the excess oil. Serve with any dipping sauce you like when serving.
Variation and Tips
Instead of unsalted butter, you can use salted butter. But, do not add salt when seasoning the shrimp mixture.

You can add mashed potatoes or grated carrots in addition to chopped shrimp.

If you don't have shrimp, you can instead use prawn.

You can use crushed corn flakes or potato chips instead of breadcrumb.
Frequently Asked Question's (Faqs)
1. Why is my shrimp croquettes watery or falling apart easily?
If this happened to your croquettes, that is either because you add too much milk which makes the shrimp mixture watery, or you don't add enough flour. To fix this, just add more flour or pour less milk.
2. Do we need to coat the croquettes with breadcrumbs?
The breadcrumb will give a nice crispy texture on the outside while it remains moist on the inside. But if you don't want to use it or you don't have breadcrumb, you can just skip that part and continue cooking this recipe.
3. What do you serve this croquette recipe with?
This croquette is usually served as an appetizer which we eat alone. However, I sometimes like to serve it with pasta or healthy green salads and with a dipping sauce of your choice.
4. What kind of dipping sauces goes well with this recipe?
You can use garlic butter sauce, mayo hot sauce, sour cream or tartar sauce.
Other Appetizers / Finger Food Recipes
Here are other delicious Appetizer and Finger Food recipes you make in your kitchen:
Shrimp Croquettes Recipe
A delicious shrimp fried ball called Shrimp Croquettes which is one of the best appetizer to try at home.
Ingredients
500 gram of shrimps
½ cup of flour
1.5 cup of low fat milk
1 medium chopped red onion
3 tablespoon of unsalted butter
Salt and Black Pepper for Taste
For Coating the Croquettes
1 Egg
1 cup of Flour
1 cup of Breadcrumb
Instructions
Cooking the Shrimp
Add a tablespoon of vegetable oil to the pan.
Once it becomes hot, add the peeled shrimp. Stir till it turns pink which indicate it is already cooked
Remove the shrimp and transfer to the plate
Use the knife to chop into smaller pieces. Set aside
For Shrimp Mixtures
Add unsalted butter to the pan. Wait till it fully melted
Add chopped red onion. Stir to mix for few minutes
Add flour and milk. Gently stir to combine. If it is too rubbery, add more milk till you get a smooth texture
Add chopped cooked red shrimp. Stir to combine. Add Salt & Black Pepper for taste.
Transfer into the tray or plate. Store in the refrigerator for 1 hour to help bind shrimp mixture together.
Coating the Shrimp Balls
Remove the shrimp mixture, and prepare a separate bowl of flour, egg, and breadcrumbs.
Use 1 tablespoon to grab a shrimp mixture and use your hand to make it into a ball shape
Coat the shrimp ball into the flour, followed by egg, and then the breadcrumbs.
Repeat the process since this is good for 16 to 18 pieces.
Deep frying the croquettes
Pour vegetable oil into the cooking pot.
Once the oil is hot, add the shrimp balls into the pot.
Let it fry for less than 5 minutes or till it turns golden brown.
Transfer into the plate with a paper towel to absorb the excess oil. Repeat the rest of the croquettes.
Serve with any dipping sauce you desire.
Notes
If the instruction is hard to understand, please look at the pictures of the steps in the recipe post.
You can use salted butter instead of unsalted butter, but do not add salt.
Low fat or high fat milk are both fine.
Nutrition Information
Yield

16
Serving Size

1
Amount Per Serving
Calories

116
Total Fat

4g
Saturated Fat

2g
Trans Fat

0g
Unsaturated Fat

2g
Cholesterol

85mg
Sodium

437mg
Carbohydrates

17g
Fiber

1g
Sugar

2g
Protein

11g