Keto Tuna Patties are delicious tuna patties that are mix with herbs, fish sauce, and egg. These patties are perfect to eat with sandwiches or it can be just your ordinary appetizer.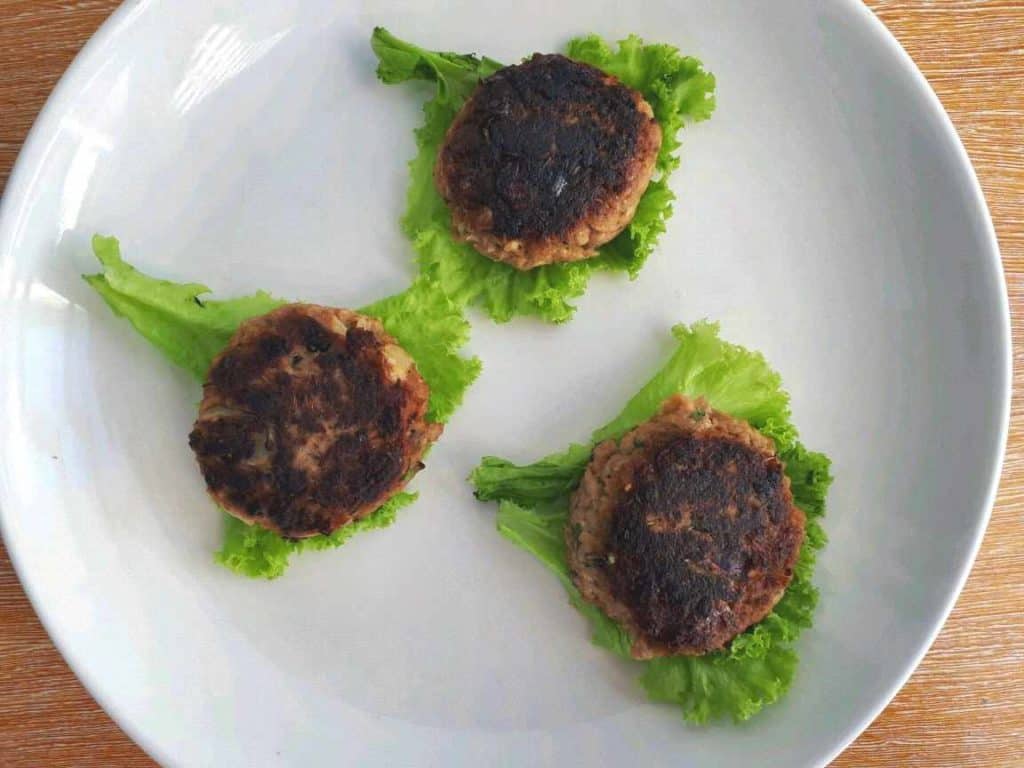 Jump to:
When I eat canned tuna, I either use it with my Homemade flatbread or making a sandwiches. I love eating canned tuna since it is delicious and more nutritious than other seafood. Tuna contain good amount of Omega-3 fatty acids. This is good fat which is healthy for the heart and protects you from cardiovascular diseases.
Although I love eating canned tuna, I tend to get tired when eating directly from the canned goods. Because of that, I decided to be a little creative by making something different. I decided to make my version of Keto Tuna Patties.
What makes this keto recipe is because there is no gluten and low carbohydrate, but it has high amount of fats and proteins.
Recipe Ingredients
To make a delicious Keto Tuna Patties, there are several ingredients you need for this dish.
Canned Tuna- I am using a canned tuna which is found in most grocery stores. This is much easier and convenient than buying a fresh tuna from the market. When using canned tuna, I am using white tuna that is just plain or made from olive oil. I will not recommend if you are using canned tuna that is mixed with spices or those that are seasoned. That is because you may not appreciate the ingredients of your recipe.

Onion, garlic, and ginger- These are 3 important herbs when mixing with the tuna since they give a great flavor of your dish. Also, I grated all these 3 herbs using the grater instead of chopping or mincing them. That is because I don't want to have large chop pieces of onion or ginger when mixing the tuna. It looks weird.

Coriander- Making a Tuna patties is not complete without mixing with coriander. This gives a nice aroma of the tuna.

Fish Sauce- Fish sauce can give a nice salty and fishy flavor of the patties. This serves as an alternative to salt. Well, tuna is a fish, right? So adding a fish sauce doesn't seem weird to me.

Egg- This will help make sure sure the tuna patties hold together. Avoid using so many eggs since this will make tuna mixture watery.

Olive Oil- The oil is used when cooking the tuna patties. I love olive oil since it gives a nice olive flavor and it is healthier than other cooking oils.
What Kitchen appliances or tools do you need?
To cook this dish, you will need to use a non-stick frying pan or skillet. This will help move the patties easier. Also, this will prevent sticking to the pan which could break the patties.
Do you need to fridge the Patties before cooking?
It is recommended to your patties stored in the refrigerator for 1 to 2 hours. This will help remove all the excess liquids from the patties and hold the shape together when cooking in the pan. But, this is just optional if you want to cook right away and don't want to wait, that's fine. As long as you make sure you remove every single drop juices from the canned tuna. That way, your tuna mixture patties will not be moist.
Step By Step Instruction
Believe it or not, cooking these tuna patties is very easy. Firstly, open the canned tuna, and drain the juices or the oil from the tuna. You have to make sure every drop of juices are removed to prevent having a watery patties
Secondly, mix the drained canned tuna, minced garlic, ginger & onion, chopped coriander, fish sauce, and egg in one large bowl. Mix it all until it is well distributed.
After that, use your hand to form them into patties around 4 pieces. Add olive oil into the pan in low medium heat. Once it is hot, add patties into the pan. Cook it for 3 to 5 minutes or until it turns to a golden brown. Flip it and repeat the process, and you are done
Other Recipes to Try
Here are other delicious finger food recipes to try
📋 Recipe Card
Keto Tuna Patties
Keto Tuna Patties is a canned tuna recipe that is mix with ginger-garlic, onion, fish sauce, coriander, and egg that form into patties.
Ingredients
1

Canned Tuna

2

teaspoon

chopped coriander

1

large egg

3

cloves

garlic

1

teaspoon

grated ginger

1

small onion

3

tablespoon

olive oil

1

tablespoon

fish sauce
Nutrition
Serving:
4
g
Calories:
177
kcal
Carbohydrates:
3
g
Protein:
12
g
Fat:
13
g
Saturated Fat:
2
g
Polyunsaturated Fat:
10
g
Cholesterol:
65
mg
Sodium:
535
mg
Fiber:
1
g
Sugar:
1
g