Shanghai Fried Rice is a Chinese fried rice that is mixed with vegetables, sauces and meat. This is one of my favorite fried rice and you can eat this alone without any side dishes or soup. That is because this fried rice is already seasoned, and it has protein and vegetables to fill up your stomach.
The first time I tried eating fried rice when I was in a Chinese restaurant in the Philippines. I was curious to try this because I heard this is a very delicious fried rice. It was one of the best fried rice I have tried in my life. I found that some countries have their version of Chinese Fried Rice. For example, in the Philippines there is a popular Filipino Chinese fast food restaurant called Chowking that serve a popular fried rice called Chao Fan which is mixed with vegetables and meat.
In this post, I will be sharing you the recipe of my version of Shanghai Fried Rice.
The ingredients of Shanghai Fried Rice
To make a delicious fried rice, there are several ingredient you will need:
White Rice- This is an important carbohydrate needed to make a fried rice
Soy sauce and Oyster Sauce- These two sauces are important for seasoning the fried rice. Without them, you cannot make this fried rice
Beef Sausage- This will serve as my protein where I will be adding in my fried rice.
Garlic and Ginger- In Asian cuisines, using garlic and ginger is an important spice when making a Chinese fried rice. It makes the rice tasty and gives nice aroma.
Frozen Mixed Vegetables- To add vegetables in my rice, I am using a frozen mixed vegetables. It is more convenient since you don't need to cut every vegetables, and instead you can buy the mixed vegetable bag in a grocery stores.
Vegetable Cooking Oil- This oil is needed when frying the vegetables, sausages, and the rest of the ingredients for this dish. I prefer to use Canola oil since it is relatively healthier than other vegetables oils with the exception of olive oil.
Eggs- This gives a golden color of my fried rice. Also, it serve as my add on protein for my dish.
Vinegar- Although it is not seen in the picture above, I am also using vinegar to seasoned my fried rice. This gives an acidic flavor of my dish. But don't worry, it makes the rice absolutely delicious.
Instruction of how to cook this rice dish.
When cooking this amazing Chinese fried rice, you will need to prepare the ingredients ahead. For example, you will have to make sure the white rice is cooked ahead and the scrambled egg is done before mixing the Chinese fried rice.
In my experience, the preparation is the one a bit time consuming but cooking this rice dish is easy and straight forward
Firstly, add oil in the large pot or deep frying pan. Once it is hot, add ginger & garlic, and stir them quickly. Add the sausages and stir them for few minutes. When the sausage is almost cooked, add the mixed vegetables and stir them well. Add the soy sauce and the oyster sauce and mix it well. Later, add the white rice and and make sure it is well mixed. Add the scrambled egg, and mix it again. Lastly, add the vinegar and repeat process. And you are done. I don't add salt and black pepper because the sauces itself provide the saltiness of the dish.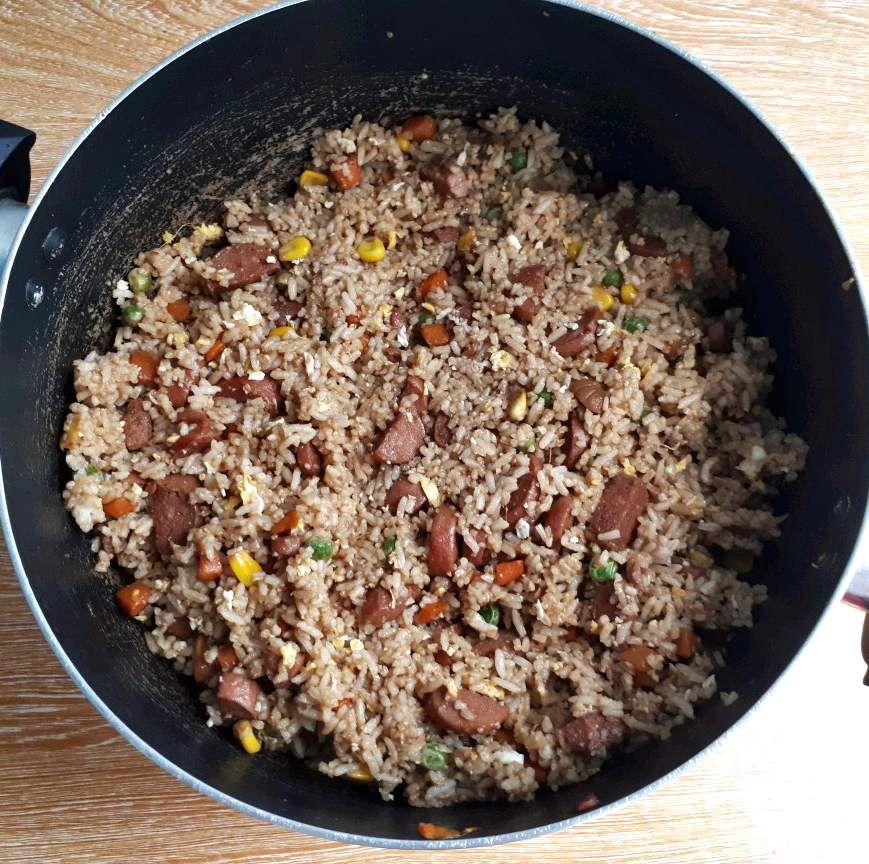 If you will like to know more here is the full instruction of Shanghai Fried Rice Recipe
Best Shanghai Fried Rice Recipe
Shanghai Fried Rice is a Chinese fried rice recipe which is mixed with vegetables, meat, and seasoning sauces.
Ingredients
5

cup

of cooked white rice

7

tablespoon

of soy sauce

7

tablespoon

of oyster sauce

1

tablespoon

of vinegar

2 eggs to make a scrambled egg

2

cup

of frozen mixed vegetables

2

cup

of chopped beef sausage

1

tablespoon

of garlic paste

1

teaspoon

of ginger paste

4

tablespoon

of vegetable cooking oil
Nutrition
Other Fried Rice Recipes
If you love fried rice dish, I have other recipes that you may love to try cooking at home