Scrambled eggs with mushrooms is my favorite breakfast meal which is a scrambled egg mixed with mushrooms and onions. It is one of the simplest breakfast recipe to make while in the house. Furthermore, it is perfect to eat with toast bread, tortilla or even pancake.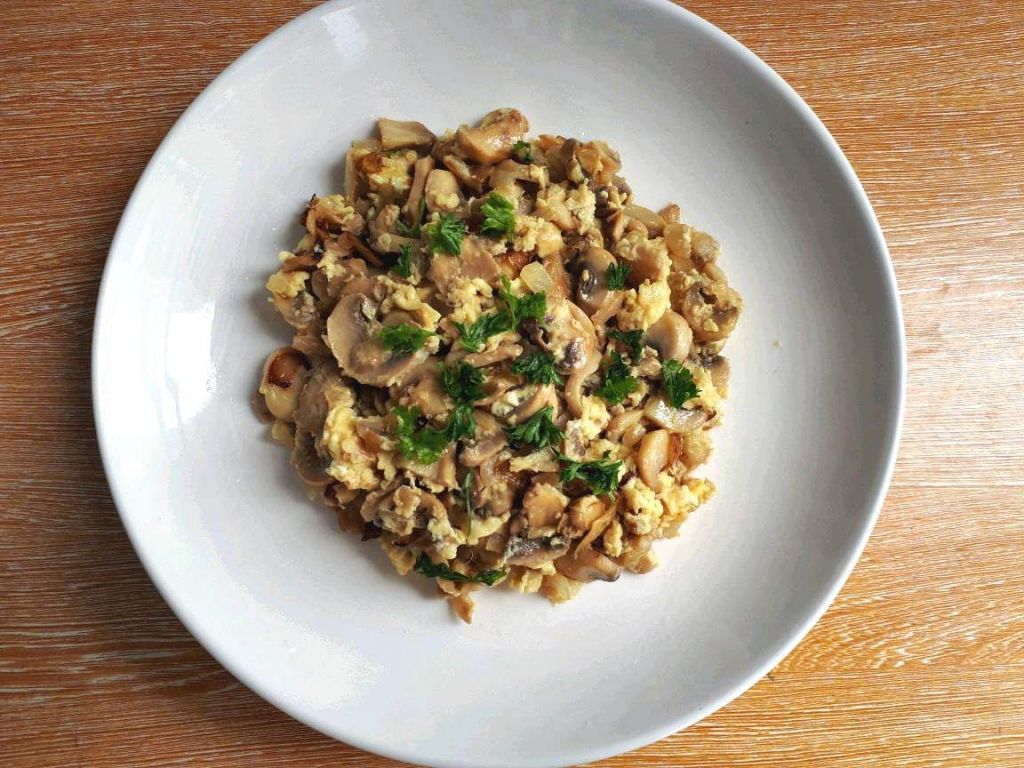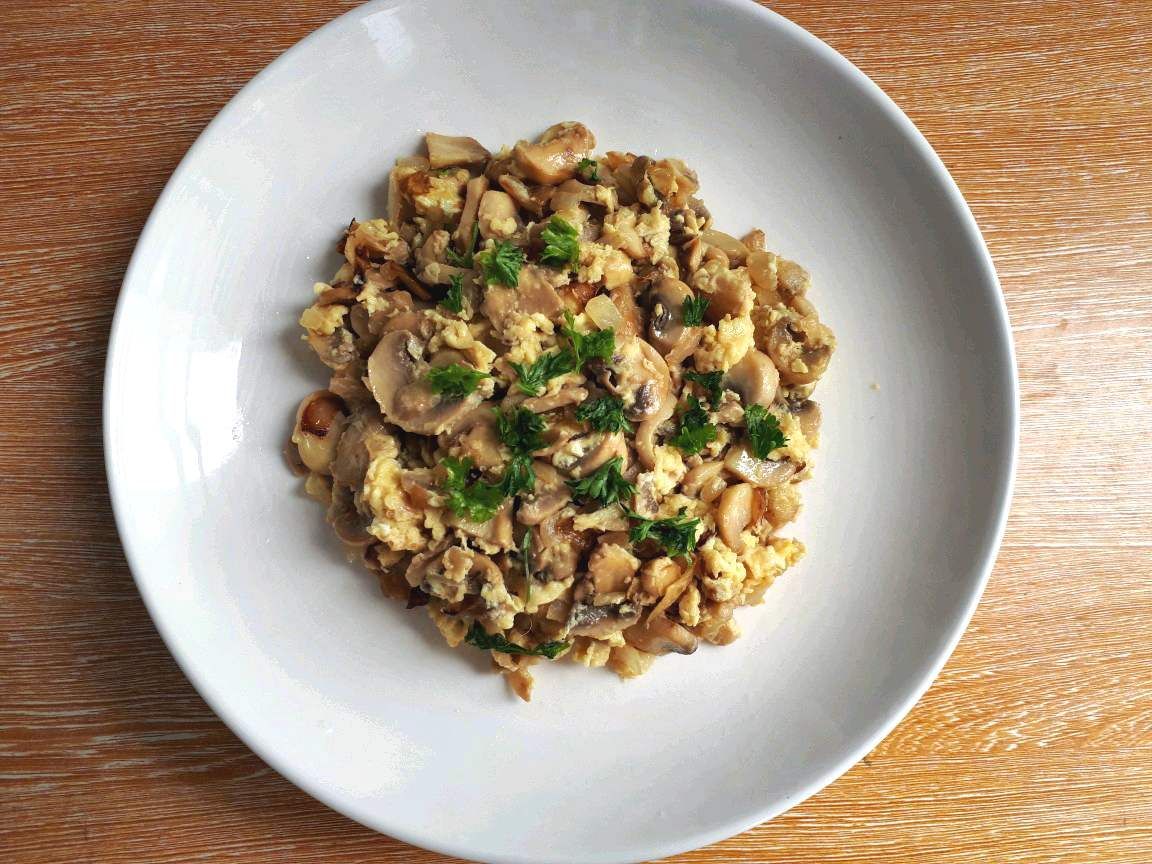 We all know the breakfast is a very important meal in our health. And we need to eat foods high in protein and carbohydrate for our energy. In most breakfast meal, they usually include scrambled egg in their food. But I want make my dish a little bit more creative by adding mushroom and onion. In this post, I will be showing you a recipe of how to cook a delicious mushroom scrambled eggs recipe.
The Ingredients of Scrambled Eggs with Mushrooms Recipe
To make a mushroom scrambled eggs recipe, the ingredients are very simple and easy to cook.
Firstly, you need half cup of chopped onion to give a nice flavor of your scrambled egg. Secondly, I am using extra virgin olive oil or any olive oil which I forgot to include in the picture above. I love using olive oil when cooking my scrambled egg because it gives a nice flavor of the dish. Not to mention, it is also very healthy and nutritious which is proven to have many health benefits.
Also, I used a canned mushroom rather than the fresh mushroom. This is more convenient and readily available in the supermarket. In addition to that, I am using chopped parsley as my garnish for my dish. Of course you need an egg to make this dish. And lastly, you need salt and black pepper for seasoning when beaten the egg.
Can you add other vegetables when cooking this dish?
When cooking your favorite scrambled egg, you can add any vegetables you like. You can add spinach, tomatoes or potatoes. However, I will not recommend you to add all these vegetables in one pan. This can overwhelm your scrambled egg.
I have tried making scrambled egg with potato and it taste absolutely delicious. On the other hand, I am using spinach when I am cooking an omelette, but I never tried making a scrambled egg using this ingredient.
Recipe Ingredients
To cook this dish is extremely easy, and it takes only 10 minutes.
Firstly, add vegetable oil in the pan. Once it is hot, add onion and stir it for few minutes or till light brown. After that, add mushroom and stir it well. Let it be cooked for 5 minutes or till the color darken. In the same time, beat the egg and add salt & black pepper. Later, put the seasoned beaten egg into the pan, and mix it well. Once you are done, turn off the heat before serving.
The recipe is simple and below is the full instruction of how to cook Scrambled eggs with mushrooms and onions
📋 Recipe Card
Scrambled eggs with mushrooms recipe
A healthy scrambled eggs with mushrooms which is mixed with onion and garnished with parsley. It is a perfect breakfast meal for protein lover.
Ingredients
2 eggs

1

cup

of chopped canned mushroom

½

cup

of chopped onion

Salt and Black Pepper for taste

Parsley for Garnish

2

tablespoon

of olive oil
Notes
If you don't have olive oil, you can use any vegetable oil you like.
You can add spinach if you want more vegetables in your egg. However, I will recommend to add 3 instead of 2 eggs.
Nutrition
Egg Recipes
An egg is one of the most ingredients when cooking your delicious food. If you are looking for scrambled eggs or other similar egg dishes, here are these recipes you may like to try cooking in your kitchen.