Pancit Sotanghon Guisado is a Filipino glass noodle recipe that is mix with chopped chicken breast and vegetables. It is also season with soy sauce and oyster sauce for a better flavor of the noodle.
Jump to:
In the Philippines, noodle recipes are greatly influenced by Chinese culture, which was introduced by the Chinese settlers in the past centuries. There are many types of Filipino noodle recipes such as bihon, pancit canton, and sotanghon. But, in this post, I will like to share with you about Sotanghon Guisado.
The first time I ate pancit sotanghon was on my birthday when I was age 8, which was made by my mother. It is a simple thin glass noodle recipe, but the combination of soy sauce and oyster sauce makes the noodle flavorful, and the vegetables and chicken breasts make it nutritious.
In Filipino cultures, it is important to serve noodle or pancit dishes during birthday celebrations since it represents long life and good health. I was amazed by this belief, and because of it, I always cook noodle recipes during birthdays, family celebrations, or holidays.
What is Sotanghon Guisado?
In Filipino, the word "sotanghon" means glass noodle, vermicelli noodle, or bean thread noodle, which is a thin noodle. Although it has many names, do not be confuse since they are all one type of noodle. On the other hand, the word "guisado" means sauteed or stir-fried in the Philippines. And of course, the word "Pancit" means noodles.
There are many types of noodle recipes in the Philippines. If you have heard about Pancit Canton, it is an egg noodle dish, while Pancit Bihon is made by using rice noodles.
Recipe Ingredients
The recipe to make pancit sotanghon guisado is similar to the pancit canton I made in my previous post.
NOODLE: The type of noodle I am using is glass noodle or vermicelli noodle, which you can find it in any Asian grocery store.
VEGETABLES: There are 3 kinds of vegetables I use for my recipe: String beans or French Beans, Cabbages, and Carrots.
SEASONING SAUCE: I use soy sauce and oyster sauce. They are a must sauce when making sotanghon since it makes your dish tasty. Also, you don't need to add salt since they both have sodium content.
MEAT: I am using chopped breast chicken for my protein. You can also add chicken livers if you like, but I didn't add them to this recipe.
OTHER INGREDIENTS for Sauteing: I used vegetable oils and garlic & onions when sauteing the rest of the ingredients. And of course, water is needed to cook the vermicelli noodle.
What do you serve this recipe with?
When we eat this delicious sotanghon guisado, we usually pair with other Filipino side dishes that are crispy. In my experience, here is the list of crispy Filipino food dishes that I pair with my noodle recipe.
Tips and Hints
Before cooking the glass/vermicelli noodle, make sure you soaked it in water for 5 to 10 minutes. It will help soften the noodle, hence, cooking it faster.
Never soaked the noodle in boiling water. It will make the noodle too soft and sticky.
Aside from chicken, you can add shrimp or chicken liver to your pancit sotanghon guisado
You can add other ingredients such as tofu or mushroom if you prefer to have a vegan noodle dish.
You can alternatively switch water with chicken stock if you like to have better flavor of your pancit sotanghon.
Step by Step Instruction
The first thing to do is turn on the gas on medium heat and add vegetable oil in a large pot or skillet.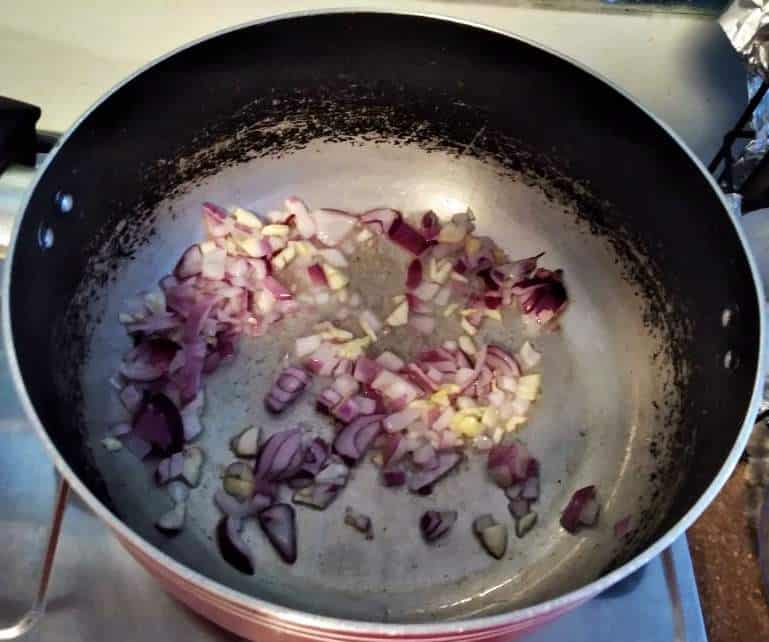 Once the oil becomes hot, add chopped garlic and onions. Stir for few minutes till it looks cook. Add chop chicken breast in the pot. Stir to mix for a minute and cover with the lid. Let it be cook till the juices from the chicken are gone.
After that, add soy sauce and oyster sauce and give a quick stir. Later, you add the julienned carrot and then stir for less than a minute before pouring water. When the stock started to boil, add the string beans and let it cook for 1 minute.
When the string beans look soft, add the noodle and mix to combine. Cover with the lid and then lower the heat to let it simmer for 5 minutes. Once the noodle is cooked, add the cabbages and mix it well with the noodle. Let it cooks for an additional 2 to 3 minutes before turning off the heat. Put it on a plate and serve with calamansi or lemon. And you are done.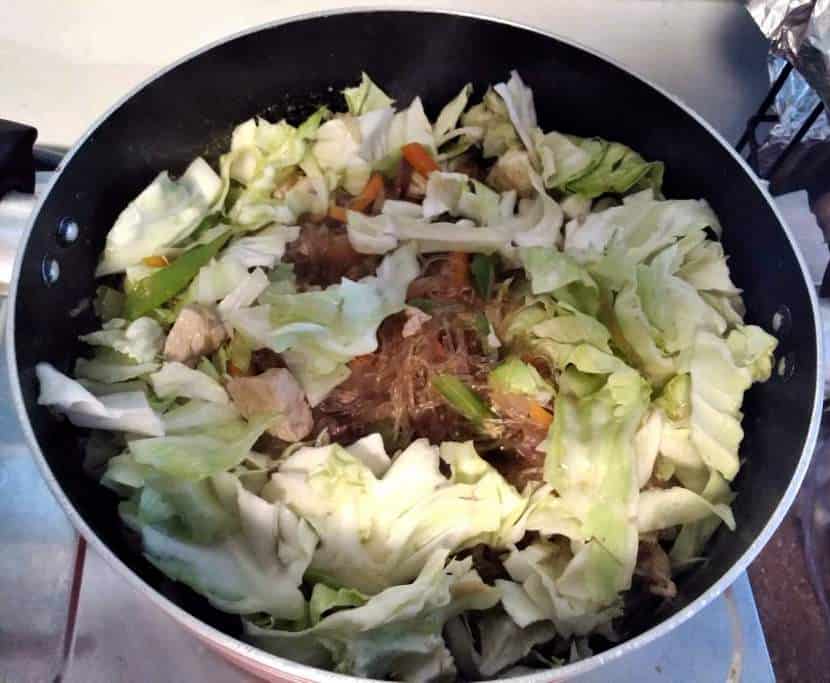 For full instruction, here is the recipe card of my chicken pancit sotanghon guisado.
Nutrition Facts
5 servings per container
Serving Size1 servings
---
Calories267
Amount Per Serving% Daily Value *
Total Fat 8.1g

13

%
Cholesterol 77mg

26

%
Sodium 880mg

37

%
Amount Per Serving% Daily Value *
Potassium 422mg

13

%
Total Carbohydrate 21.7g

8

%

Dietary Fiber 3.2g

13

%
Sugars 3.7g

Protein 26.2g

53

%
* The % Daily Value tells you how much a nutrient in a serving of food contributes to a daily diet. 2,000 calories a day is used for general nutrition advice.
Asian Noodle Recipes
If you love my sotanghon guisado, here are other delicious Asian noodle recipes you may like to make at home: