Beef Rendang is an Indonesian spicy aromatic beef dish that is mixed with spices, herbs, and coconut milk. It is a popular dish in South East Asian countries which is best served with rice.


Jump to:
While living in the Philippines, I have experienced and eaten many delicious foods from South East Asia. These include Thailand, Indonesia, Malaysian and Singaporean cuisines. In my experience, their dishes are spicier yet tastier than Filipino cuisines.
One of the dishes that caught my attention is Rendang. If you live here, you will realize that these countries have their version of this beef dish. Also, I have tried the Indonesian, Malaysian and Filipino version from Mindanao, which they all taste really good.
What is Rendang?
Beef Rendang is a spicy, aromatic beef stew dish that is mixed with spices and herbs. To make this dish, the herbs such as onion, ginger, red chilies, and lemongrass are put together into the blender which we make into a paste.
Furthermore, the paste will be transfer into the cooking pot along with the remaining spices like cumin, cloves, and cinnamon stick. The vegetable oil is added to help cook the spice paste mixture before you add the beef and coconut milk. The beef will be simmer till it becomes tender and less sauce.
What makes this dish flavorful is that the beef is simmered in coconut milk rather than water. While simmering, the coconut milk will slowly evaporate while it releases the oil which will brown the beef.
My Indonesian friend told me that they serve this during special occasions like weddings, Ramadan or family gatherings. This is true even in Maranao, a Muslim Mindanao in the Philippines, where they also make their version of rendang.
Difference between Malaysian/Indonesian and Filipino version?
In the Philippines, the rendang is made using the local spice mix called Palapa, which is combined with muscovado sugar. Palapa is a Filipino condiment made from chopped white onion, turmeric, labuyo chilies, toasted grated coconut, and ginger.
On the other hand, Indonesian or Malaysian is different since they use traditional spices like galangal, ginger, lemongrass, onion, red chilies, and other spices. Furthermore, to make the curry sauce, other spices are added including cinnamon stick, cardamom, clove, and cumin.
Because I love this dish, I will be making my version of the Beef Rendang recipe. It may not be authentic, but I promise you it is mouthwatering.
Recipe Ingredient
The recipe ingredient of beef randang involve different spices and herbs.
MEAT: The meat I am using is boneless beef steak which I chop it smaller pieces. I prefer steak since it cooks the meat faster and became tender right away.
SPICE PASTE: To make a paste, you will need ginger, garlic, red onion, lemongrass, water, and dry red chilies.
CURRY SAUCE: In addition to the paste, I am also making the curry sauce which I add cumin, cinnamon stick, cloves, brown sugar, and turmeric. Furthermore, coconut milk is used instead of water since the oil is released from the coconut will help fry & brown the meat. If you will use water instead, the taste will not be weaker and you may not be able to brown the meat.
Step by Step Instruction
Although beef rendang is a slow cook process since you are simmering for hours, I am not using a slow cooker but rather a cooking pot.
Firstly, I combine all the spices into a blender which I will make into a paste. To make sure it turns into a paste, I add water and chop each of them so it will help liquefy them.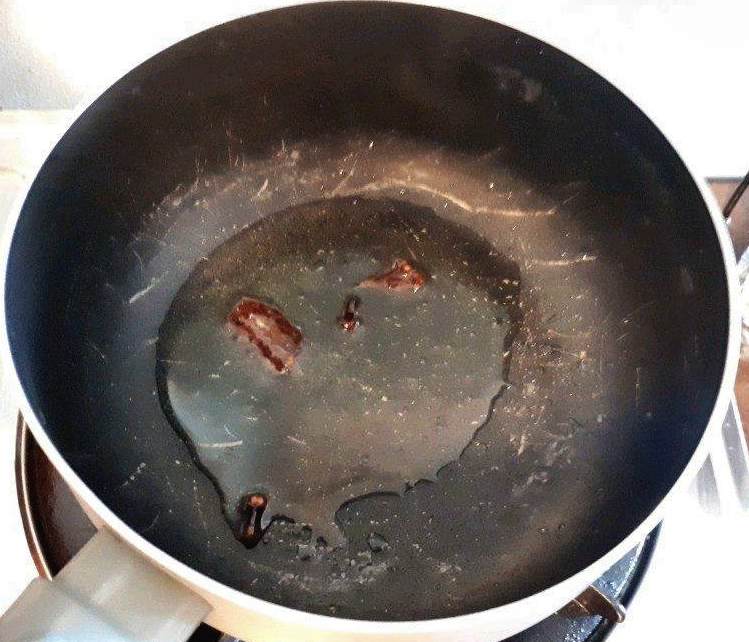 Next, I transfer it into the cooking pot where I add vegetable oil and the rest of the spices like cumin, cinnamon stick, etc. The vegetable oil will help cook the paste.
Later, I added the chopped beef steak, coconut milk, brown sugar, and lemongrass stalk. Make sure you smash the lemongrass to help release the aroma. After that, let it simmer in low heat until there is only less sauce.
When the sauce is almost evaporated, you will notice the coconut milk will release the oil, which will fry & browned the beef. Lastly, turn off the heat when it browns the meat already. Serve it with any of your preferred rice.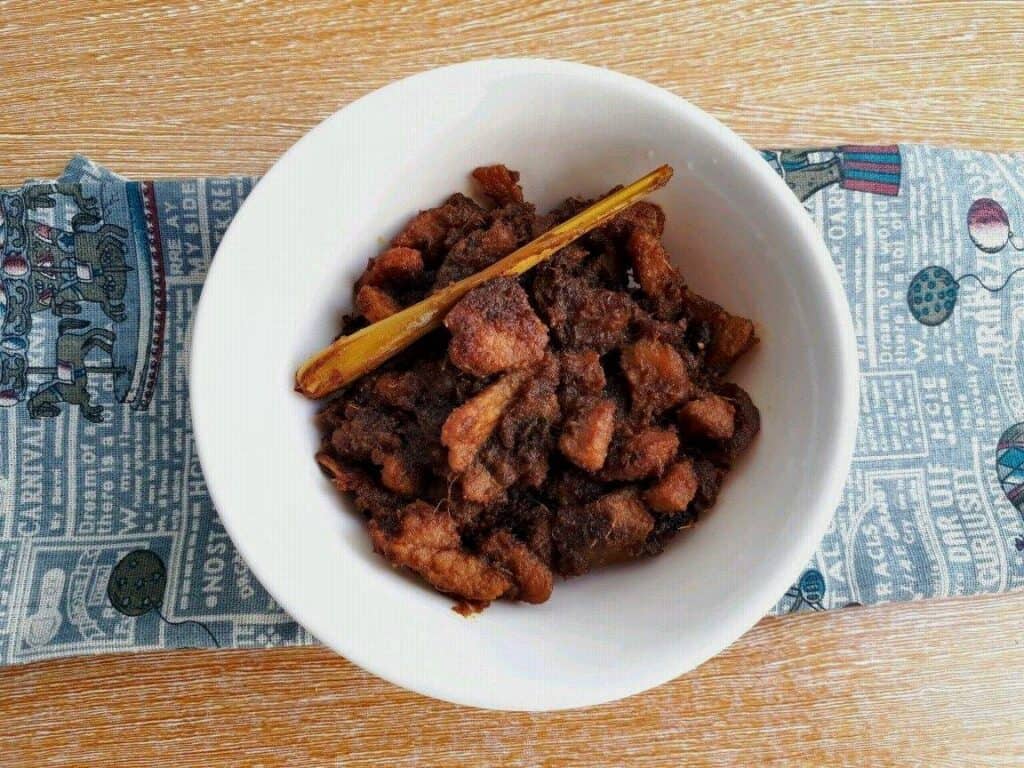 Frequently Asked Question (FAQ's)
1. What kind of Beef I can use in my rendang?
I am using Beef steak which I chopped into smaller pieces to help cook the meat faster. But, you can use beef ribs, round or brisket if you like.
2. Aside from beef, what other meats I can use in this recipe?
You can use chicken, duck, boneless fish, or lamb for this dish. They all taste delicious.
3. What do I serve or eat beef rendang with?
We serve with either white rice or coconut rice which is common in Southeast Asian cuisines. Furthermore, I recommend serving with other vegetables side dishes like sliced cucumber, chayote, or kangkong. Just make sure chayote or kangkong are cooked before serving.
4. What happen if I use water instead of Coconut milk?
If you use water, the taste will be weaker and the beef might not be browned or fried well. You want to make your beef dark and brown and this is possible by using the oil release from the coconut milk.
5. How long can you store in the fridge?
This recipe can last in the fridge for up to 5 days. Also, the beef tends to taste better the next day because of the spices.
Other Asian Beef Recipes
Here are other delicious Southeast Asian beef recipes to try at home:
Beef Rendang Recipe
Cook Time:
1 hour
30 minutes
Total Time:
1 hour
50 minutes
Beef Rendang is an Indonesian slow cook, spicy and aromatic recipe which is mixed with spices & herbs and braised in coconut milk.
Ingredients
Spice Paste
5 cloves of garlic
1 thumb-size ginger
1 medium red onion
10 dried red chilies
2 pieces of chopped lemongrass stalk, the white part only
¼ cup of water
Curry Sauce
500 gram of chopped beef steak
2 green chilies (optional)
2 lemongrass stalk
1 cinnamon stick
5 cloves
1 teaspoon of cumin powder
½ teaspoon of turmeric powder
1 tablespoon of brown sugar
2 tablespoon of vegetable oil
1 ½ cup of coconut milk
Instructions
Add chopped onion, garlic, lemongrass, dried red chilies, ginger and water into the blender. Once you turn it ON, let it blend till it turn into a paste.
In a separate cooking pot, add vegetable oil, cloves, and cinnamon stick. Transfer the spice paste into the pot. Give a quick stir
Add chopped beef, cumin & turmeric powder and lemongrass stalk into the pot. Stir to combine
Pour the coconut milk into the pot. Stir again to combine and change the heat to MEDIUM or MEDIUM LOW . Cover the pot and let it simmer.
Once the sauce is gone by 50%, add the brown sugar. Mix to combine and then adjust the heat to LOW. Continue to let it simmer
When there is already less sauce, the coconut milk will release its oil which will cause to fry and brown the beef. Once it does that, Turn OFF the heat
Garnish the rendang with spring onion and serve with rice and any vegetable side dishes.
Notes
In this recipe, I am using a cooking pot instead of slow cooker or instant pot since traditional is much better.
Nutrition Information
Yield

4
Serving Size

1
Amount Per Serving
Calories

530
Total Fat

49g
Saturated Fat

26g
Trans Fat

0g
Unsaturated Fat

18g
Cholesterol

121mg
Sodium

106mg
Carbohydrates

40g
Fiber

4g
Sugar

11g
Protein

39g