Mansaf is a traditional Arabic lamb dish that is cooked in yogurt sauce. It is considered a national dish of Jordan which is served with rice and flatbread.


Jump to:
Jordan is home to one of the best Middle Eastern cuisines, which is similar to other Mediterranean and Levantine dishes. If you visit there, regardless of the occasion, most locals will recommend you two popular dishes to try- Maqluba and Mansaf. In this post, let's talk about the latter.
In the old centuries, the local Jordanian tribes called Bedouin was the first to introduce the dish called Mansaf. Throughout these years, it started to modernize by introducing rice and yogurt called Jameed, which is a dry yogurt made from goat's milk. Furthermore, when the country got its independence, it officially became its national dish.
What is Mansaf?
It is a traditional dish from Jordan which is cooked using Jameed or plain yogurt sauce. The yogurt is combined with the broth of the Lamb that is boiled for many hours using different spices. It is served in a large serving platter where it is divided into 3 layers:
Firstly, we use a large thin flatbread called Markook (OR shrak bread in English), which we tear into smaller pieces and put around the plate. Secondly, the cooked turmeric rice is added above the flatbread, that is followed by lamb meats. Lastly, you pour the yogurt soup on it and sprinkle it with chopped parsley and fried almonds or pine nuts.
This dish is served during special occasions, national or religious holidays like Ramadan, or inviting special guests. I remember when I visited Jordan for the first time, my close relative made this dish since we were their guest in the house.
As a half Jordanian, Mansaf is important to us since this is part of our cultural heritage. In this post, you will learn the recipe that I learned from my father, that he learned from his mother.
Recipe Ingredients
There are several important ingredients you need to make this delicious Jordanian mansaf recipe:
I. MEAT: The meat I am using in this recipe is a mix of Lamb bone-in cuts which I let the butcher chop into smaller pieces. You can use Lamb shank, leg, or any part you like, as long you manage to have them chop into pieces.
II. YOGURT: Traditionally, locals use the dry goat's milk called Jameed. However, in this recipe, I am using just plain yogurt. Some versions of Mansaf, like my recipe, prefer to use plain yogurt or Greek yogurt.
That is because it does not have an overwhelming taste and smell of goat's milk, which is salty and sour. Also, because I live in an Asian country, it is not easy to find the ingredient Jameed. Nonetheless, it doesn't matter since the taste is still delicious.
III. SPICES: When you are boiling the lamb, I add a few spices to make sure the broth is flavorful. These spices include cinnamon stick, allspice, cardamom, bay leaves, peppercorn, and cloves.
IV. CONDIMENTS: To enhance the flavor of this dish, I use garlic- that I sauteed in olive oil, and lemon juice which I later transfer all of them into my cooked yogurt sauce. Because Jameed has a natural sour taste, you will need lemon juice to add the sourness to the yogurt soup.
IV. RICE AND FLATBREAD: I am using long-grain rice which I mix with turmeric and olive oil.
Step by Step Instruction
Cooking Mansaf is a complex process since there are 4 things you need to do: Cooking the Lamb; Making the Laban sauce; Cooking the yellow rice; and Assembling the Mansaf
I. Cooking the Lamb
In this step, I pour water and put the lamb in the pot. When it is boiling, you will notice the meat will be releasing its excess fats or dirt, which I later remove all the boiled water and replace a new one. That is because in this process I am cleaning the meat through boiling.
When you replace it with clean water, turn on the fire let it boil. Once it is boiling, I add all spices and then I adjust it to low heat and cover with the lid. For the meat to become soft and tender, you will have to let it cook for 2 hours or until it becomes soft.
II. Making the Laban (Yogurt) Sauce
To make the yogurt or laban sauce, I pour the plain yogurt and water into the blender to help liquefy the sauce.
Next, I transfer the blended yogurt sauce into the new pot, which I use the large cooking spoon to gently stir the sauce for 3 to 5 minutes. After that, I add the meat and the broth from the cooked lamb.
Lastly, in a separate pan, I sauté the chopped garlic till it turns light brown, which I transfer into the laban sauce. Add lemon juice and stir to combine to add sourness.
And now you're done with the sauce, you still need to make the rice.
III. Making the yellow rice
Cooking a rice is the same like other rice dish which is easy.
First, I add olive oil to the pot before I added the rice. I let it stir for 30 seconds before I add salt and turmeric powder. I give it a quick stir for one more time before I pour water into the pot
Make sure you lower the heat to simmer when it started to boil so the rice is cooked thoroughly.
IV. Assembling the Mansaf
For presentation purposes, I use a large serving plate which is common to do in our Jordanian culture.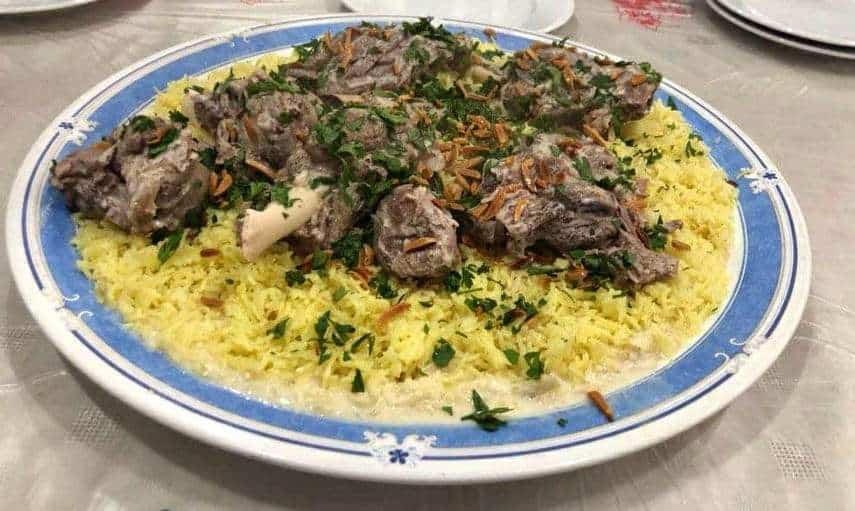 On this plate, I put the flatbread, which I tear into small pieces, around the plate. Next, I add the rice and then the lamb meat. After that, I pour the soup around rice and lamb using the ladle spoon.
And lastly, before you dig in, sprinkle with chopped parsley and fried almonds or any nuts you like. In my opinion, the nuts are not needed in this dish since they wouldn't make any difference in terms of taste.
Recipe Tips and Hints
If you want to cook the lamb faster, use a pressure cooker instead of an ordinary cooking pot. The meat will be tender in less than an hour

Sautéing the chopped garlic in olive oil before putting it into the sauce will enhance the flavor and add aroma to the yogurt

In this Jordanian mansaf recipe, I am tearing the flatbread into pieces since I learned it from my father. But, you don't have to if you like.

You can use Jasmine, Basmati, or any long or medium-grain rice.

If you don't like to fry the Almond or Pine nuts, you can instead roast them.

If you don't have shrak bread, you can use tortillas or any thin homemade flatbread
Frequently Asked Question's (FAQ's)
1. How do you eat Mansaf?
I learned from my father, that in our Jordanian culture, we eat using our right hand while we put our left hand behind our back. And then we make a ball shape using our 3-fingers (thumb, index, and middle fingers) which we later put in our mouth. But, one thing to know that this is just a tradition and not a mandatory practice. You can eat using a spoon or entire fingers of your hand without making a ball-shaped.
2. What other meats I can use aside from lamb?
Beef is the second most common meat we use in this recipe. Also, you can use chicken if you prefer white meat
3. What do you serve this recipe with?
Of course, this recipe cannot be complete without rice and flatbread. Also, it is traditional to serve mansaf with slices of white onion or spring onion as a side dish. Lastly, make sure you have extra yogurt sauce, serve in a plate bowl, in case you want to pour more in your rice.
4. What kinds of yogurt I can use in this recipe?
You can use Greek yogurt, Kefir, plain yogurt, or Jameed only. Other yogurts may not work in this recipe
5. How long can this last in the fridge or freezer?
If you put in the fridge, it can store up to 5 days. But, if using freezer, they can last for up to a month.
Other Arabic Meat & Rice recipes
Here are other Arabian meat with rice dishes that you can try to make at home:
Mansaf Recipe
Cook Time:
2 hours
15 minutes
Total Time:
2 hours
35 minutes
Mansaf is a Jordanian Lamb recipe that is cooked in yogurt sauce and it is serve with rice and flatbread.
Ingredients
For Lamb Meat
1 kilo Lamb bone-in cuts (You can use lamb cut or shank)
Water for boiling
3 bay leaves
1 medium cinnamon stick
8 peppercorns
5 cloves
1 teaspoon of allspice powder
¼ teaspoon of cardamom powder
For Laban Sauce
1 cup of Lamb stock
2.5 cup of plain yogurt
½ cup of water
2 tablespoon of olive oil
4 cloves of garlic
4 tablespoon of lemon juice
For Making the Rice
2 Tablespoon of olive oil
3 cup of soaked long grain rice
6 cup of water
1 teaspoon of turmeric powder
½ teaspoon of salt
For Topping
Fried Almond for Garnish
Chopped Parsley for Garnish
Instructions
Cooking the Lamb Meat
Add the lamb meat and pour water into the cooking pot. Turn on the fire in high heat.
When it is boiling, the lamb will be releasing its excess fats or dirt. Turn off the heat
Dispose of the water, that you use to boil the meat, to remove the fats/dirt.
Pour new water into the same pot. Switch on the fire again in high heat
When it started to boil, add all the spices and stir to mix.
Cover with the lid and lower the fire to low heat. Let it simmer for 1 ½ to 2 hours or until it becomes soft and tender.
Turn off the fire. Separate the broth from the lamb meat. Discard the dry spices.
For Making the Laban Sauce
Pour the plain yogurt and ½ cup water in a blender to liquefy the sauce.
In a new pot, transfer that blended yogurt sauce and slowly stir for 3 to 5 minutes in low heat.
Add the lamb broth and the meat. Stir to mix
In a separate pan, add olive oil, and when it becomes hot, add the chopped garlic. Stir till it turns light brown.
Transfer the sauteed garlic into the pot. Stir to mix. Turn off the heat
For Making the Rice
Pour olive oil into the cooking pot.
Add the soaked long grain rice. Stir for less than a minute
Add turmeric powder and salt. Give a quick stir for 10 seconds before pouring water
When it started to boil, adjust the fire in low heat. Cover with the lid and let it simmer till the rice is fully cooked
For Assembling the Mansaf
In a clean large serving platter, add the tear flatbread around the plate
Add and spread the cooked rice around the flatbread.
Add the lamb meat above the rice
Pour the yogurt sauce over the rice.
Garnished with chopped parsley and fried almond or pine nuts.
Notes
Soaked the long rice for 30 minutes before cooking them
To cook the lamb meat faster, use a pressure cooker
Nutrition Information
Yield

6
Serving Size

1
Amount Per Serving
Calories

510
Total Fat

55g
Saturated Fat

21g
Trans Fat

0g
Unsaturated Fat

30g
Cholesterol

205mg
Sodium

473mg
Carbohydrates

36g
Fiber

3g
Sugar

8g
Protein

59g