Vegetable Samosas is a triangular-shaped vegetarian pastry that contains a filling of potatoes, chickpeas, and other spices, which are deep-fried in oil. This popular Indian snack recipe is common to serve during Ramadan iftar food, wedding, and family gathering.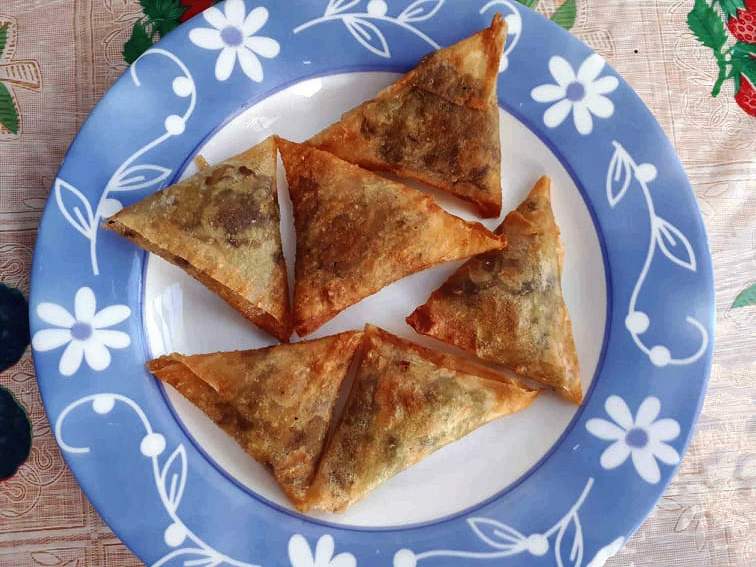 As a child, samosas is one of my favorite food snacks in my life. When I was living in Kuwait, you can find most of this pastry dish in any Indian-owned food place. Although this is an Indian dish, it is popular among locals and expatriate communities in Kuwait and Gulf Arab countries.
During the Holy month of Ramadan, when we broke our fast, we sometimes have our late snacks like 9 pm, and we always buy this delicious dish. It is not a heavy meal, but it is enough to make you satisfied. The crispiness and spices are enough to make your mouth melt.
There are different variations of samosas from other countries like Lebanese (sambousek), but to me, the Indian version is the best and the tastiest. In this blog, I have made cheese samosas in a separate post, but here, we will be focusing more on vegetable samosas.
Recipe Ingredients
Here are the ingredients you need to make these delicious Indian vegetable samosas:
Spices: The spices you need are cumin, coriander powder, and garam masala.

Samosas Wrapper: The sizes should be 8 inches long and 3 inches in width.

Vegetables: Potatoes and Chickpeas

Water and Flour to make a paste for the wrapper

Vegetable Oil for frying
Cooking Instruction
To make Vegetable samosas, there are 3 things: Make the vegetable filling; Assemble the Wrapper, and fry the samosa.
I. Make the Vegetable Fillings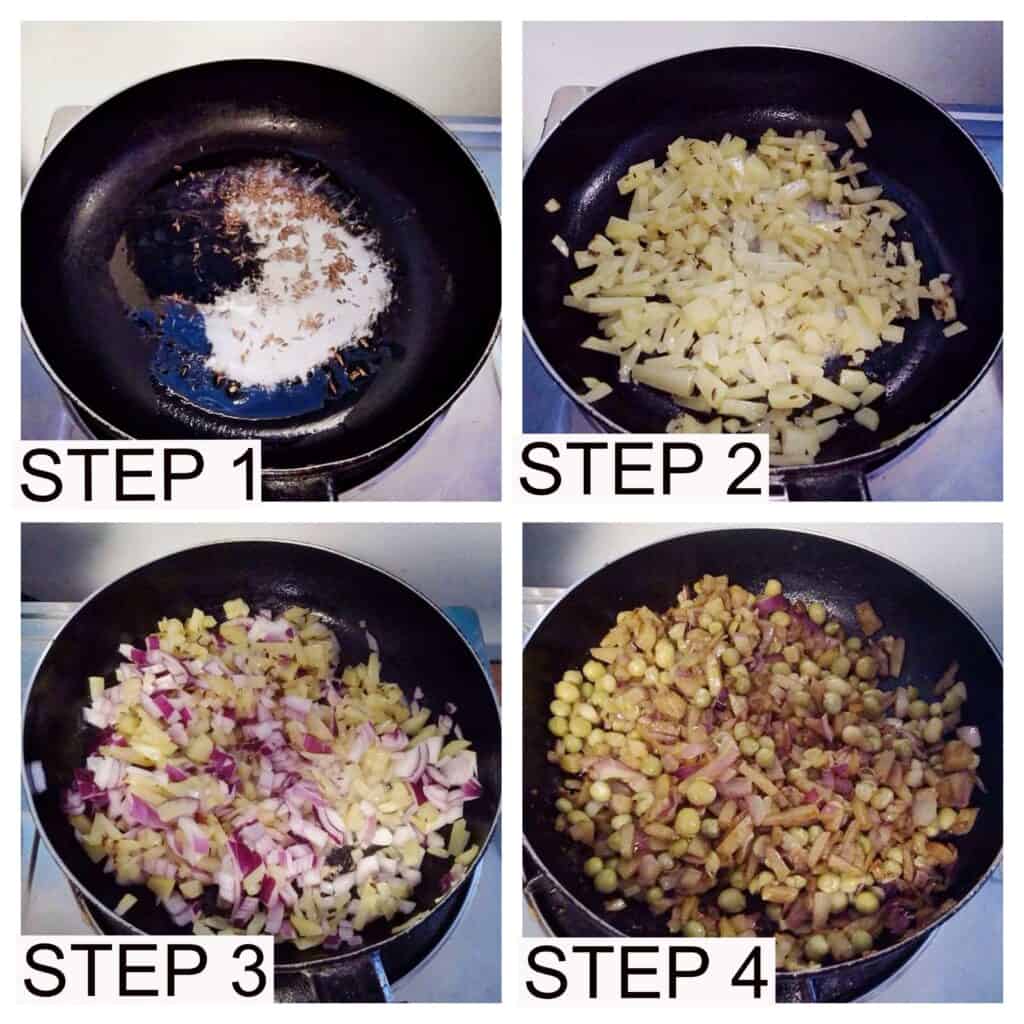 In here, add vegetable oil to the pan. Once it become hot, I added the cumin seeds. Stir for a few minutes before I added the chopped potatoes.
Once the potato is cooked, add the red onion and stir till it turns translucent. Next, I added chickpeas and spices. Stir to combine.
Make sure you add salt and black pepper for taste. Set aside once you are done.
II. Assembling the Wrapper
Based on the picture above, I first folded down to the right, and then I add two teaspoons of vegetable fillings. Enclose it and then continue folding down until it forms a triangular shape.
This part might be hard, and once you practice, it will be easier for you.
III. Frying the Samosa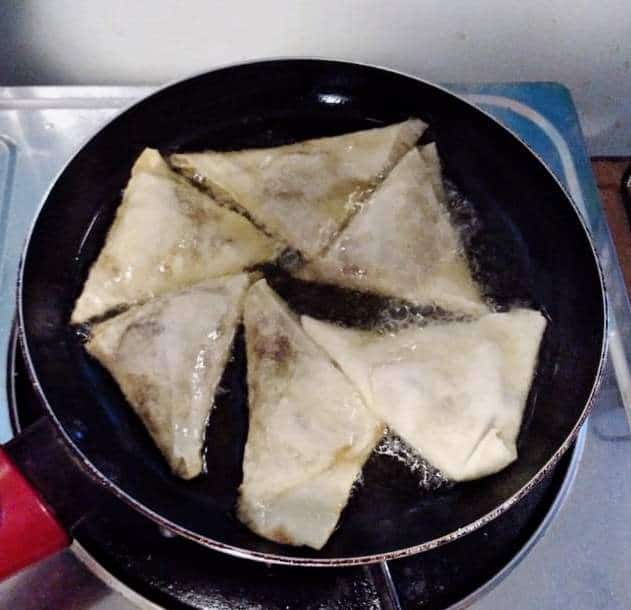 In here, all you have to do is just pour the vegetable oil into the pan. Once hot, that is when you added the samosas.
Let it fry till it turns golden brown. Flip to the opposite side. And repeat the rest.
When I put it on the plate, I make sure I put a kitchen towel under it so it will absorb the excess oil of the samosa.
Variation and Tips
If you want to cook vegetable samosas without deep frying in oil, you can use an air-fryer instead. Just drizzle it with oil and then set it at 200 C or 400 F for 10 minutes

To add vegetables, you can include carrots or yellow corns.

Samosas can be serve both as an appetizers or snacks

In some versions, they are using homemade dough, but I am using a prepared samosas wrapper found in the grocery stores. If you can't find that, just use the spring roll wrapper.
Question and Answers
1. What do you serve samosas with?
For this samosas recipe, you can serve it with mango / green chutney, tamarind or yogurt dip
2. Is this vegetable samosas recipe vegan-friendly?
Absolutely. This vegetable samosa is a vegan dish since the fillings do not contain any meat products. When frying this pastry snack, I am using canola oil, which is vegetarian cooking oil.
3. Can you store the raw / uncooked samosas in the freezer in advance?
Yes, after folding them, you can keep the samosas in the freezer for other days before frying them.

When frying them, make sure you remove them from the freezer and let them defrost for several hours so that they can easily be removed from the container. If you remove them by force while they are still frozen, you will just cause the samosa wrapper to break.
4. How long can the cooked samosas be stored in the freezer?
The fried vegetable samosas can be stored in the freezer for up to 3 months. Just make sure it is kept in a plastic sealed container to help stay it fresh.
5. How to reheat the samosas?
You can use an air fryer at 200 C for 5 minutes to make the samosa crispy. Do not use a microwave since it will make this dish soggy.
Other Indian Vegan Recipes to Try
Here are other delicious Indian food recipes to make at home: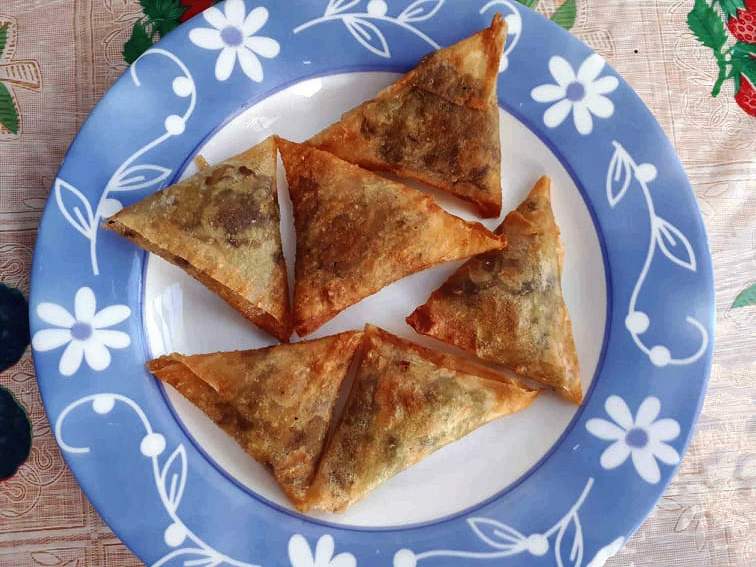 Vegetable Samosas
Vegetable Samosas is an triangular shaped Indian vegetarian pastry mixed with spices, potatoes and chickpeas.
Ingredients
1 cup of chopped potatoes
¾ cup of chickpeas
1 teaspoon of cumin seeds
1 teaspoon of coriander powder
1 tablespoon of garam masala
Samosas Wrapper or Spring Roll Wrapper
Salt and Black Pepper for Taste
Vegetable Oil for frying
Instructions
Making the Vegetable Fillings
Add 3 tablespoon of vegetable oil in the pan.
Once hot, add cumin seeds. Stir for few minutes or till it turns dark brown
Add chopped potatoes and mix to stir.
Once the potatoes is cooked and soft, add chopped red onion. Stir till it turns translucent
Add chickpeas, garam masala and coriander powder. Gently mix to combine
Add salt and black pepper for taste. Once it is well seasoned, turn off the fire. Set aside,
Assembling the Wrapper
Prepare an 8 inches long and 3 inches width samosas wrapper
Fold down to the right and then add 2 teaspoons of vegetable fillings.
Continue folding till you form a triangular shape.
Please refer to the recipe post to see the step-by-step picture
Frying the Samosas
Pour vegetable oil in the pan
Once hot, add the samosas on the pan.
Let it fry till it turns golden brown on both side.
Serve it with mango / green chutney or tamarind.
Notes
If you don't have samosas wrapper, you can use the spring roll wrapper for making lumpia. But you will have to manually cut the wrapper into 8 inches long and 3 inches width.
Nutrition Information
Yield

15
Serving Size

1
Amount Per Serving
Calories

55
Total Fat

2g
Saturated Fat

1g
Trans Fat

0g
Unsaturated Fat

2g
Cholesterol

2mg
Sodium

69mg
Carbohydrates

7g
Fiber

1g
Sugar

1g
Protein

1g